My daughter is 10 years old going on 16 and loves playing make-up. Not just on special occasions. I catch her putting it on in the morning to go to school. Since I think she's WAY too young, she often goes to my mom's house and uses her drug store, old school shit filled with chemicals and tested on animals. Everything I hate about a cosmetics company. No matter how much I beg my mom not to buy that crap, she does, and she lets my daughter use it to "play makeup".  Since I explained to my animal loving daughter all the ways Grandma's makeup has been abusing animals she stopped using her stuff and smart girl has moved onto mine.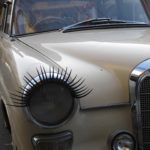 My daughter's new obsession…mascara. The good news is now the worst she can look like is Tammy Faye where before she put on all my mom's makeup and looked like Madam the puppet. To make matters worse, both my daughters have been blessed by the eye lash fairy and have long, luxurious lashes that extend naturally. True story, when both my girls were infants, one day they went to sleep and the next day they woke up and BAM they had the longest, most beautiful lashes I have ever seen. I was shocked that they acquired them overnight. My hubby has them (TOTALLY wasted on a guy) and he constantly complains about water on them and blah blah blah, it's so uncomfortable, blah blah blah. I don't have these problems so I need to wear mascara and one that really works. I used to buy the uber expensive mascara at a fancy department store that worked amazing but was filled with chemicals and tested on animals. Also, I hate when they try to spray you with that crap that makes you smell like an old lady, or as we call them in my house, female village elders. You know that smell.
Problem…I still want great mascara coverage – long defined lashes but not one that's tested on animals, filled with chemicals and one that won't flake, clump, or smudge a lot so I look like a raccoon or a bad listener (black eye). This is not so easy. If you're like me, here's some help. These are my top 5 mascaras I like and let my 10 year old daughter "borrow":
♥ 100% Pure Fruit Pigmented: This was the first natural mascara I tried and loved it. Been using it for years and what I love is that it comes in many flavors…I mean colors. You can use the standard black (which is what I use) or try blackberry, blueberry, or chocolate. The company makes products completely free of all harmful toxins and their staff is amazing. I called their store in California for help to choose the right color makeup and the woman was so nice.
♥Lush Eyes Right: This is my new love. My daughter really loves it because it's a small bottle with a short brush so it's easy for her to use. Great for my 10 year old but bad for me because the wand is too short and hard to use. This was a complaint many people have when they review this mascara but I love Lush products so much that I've learned to deal with the wand. Seriously, I went into that store with my daughters and finally after 2 hours my hubby had to beg us to leave. They make all their own products in small batches, no preservatives, 100% vegetarian and they not only never test on animals, but they're fighting for other cosmetic companies to stop testing too.
♥Jane Iredale: They make a few different kinds of mascaras but the one I used was PurLash mascara in black. I like this one because it leaves my lashes looking natural but at the same time they're thicker and longer. Jane Iredale's products are all paraben, talc and phthalate free.
♥Rejuva Minerals Pur Lash: This is another great mascara and since I live by the Environmental Working Group cosmetic list I love that this one is EWG verified which meets their strict criteria for transparency, good manufacturing practices and avoids chemicals. This mascara is free of parabens, titanium dioxide, mica, soy, gluten and GMO's. It's vegan too.
♥Josie Maran Argan Black Oil: In consumer studies a large percentage of people saw an increase in lash length and their lashes appeared conditioned and healthier after continued use. I've read a ton of reviews where people wrote of these results. I didn't see it with me but I do know that my lashes looked great. It's free of parabens, sulfates and phthalates.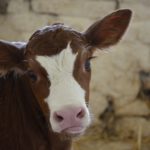 Ok, so I know I told you my Top 5 but since I began writing this article and finishing it I found another mascara I LOVE, LOVE, LOVE. ♥Juice Beauty Phyto-Pigments Ultra-Natural Mascara. I have to agree with Gwyneth Paltrow you put it on, let it dry, put another coat and I get the same results as my old conventional mascara. The wand is perfect, it's formulated without parabens, petroleum, propylene or butylene glycol, sodium lauryl sulfates, pesticides, phthalates, artificial dyes or synthetic fragrances AND it's never tested on animals.
My review of these products is based solely on my opinion. Others may have a different opinion or experience. I did not receive any compensation – I bought all these mascaras with my own cold, hard cash.