You know you have a good perverted husband when I start quoting my favorite movie and he chimes in and makes it dirty.
Ellen: "My colors are blush and bashful. I have chosen two shades of pink, one is much deeper than the other."
Mark: "I like pink! Pink is my signature color. If you show me your pink I'll definitely make you blush and I won't be bashful about it."
As I'm sure some of you will guess, that quote is from Steel Magnolias.  I'm no southern Shelby but I do have 2 signature colors, they are Casper white and Fuck that hurts Red.  Let me explain…
For most of the year my skin is white, not albino white mind you but to put it mildly my friends used to love to play the "put your arm next to Ellen's and laugh" game. After a few times at the beach, they'd squeal how tan they are and some of them even added on tanning oil to really get that deep-fried chicken tone.  Flash forward 20 years later and my skin looks pretty much the same and some of these sun worshippers look like a Kenny Rogers Roaster who's been sitting under the heat lamp for too long.  That's right you Oompa Loompas, no one is going to mistake me for a wax sculpture left too close to the heater…but no, I'm not bitter.
Now, to be fair I've tried to tan but the results were…well, let's just refer to my description of color Red earlier in this article. I go from zero to burn in nothing flat!  For me, sunscreen isn't just a precaution against skin cancer, it's a necessity to keep me pain and blister free. According to the American Academy of Dermatology  (www.aad.org) there are three things you need to watch for when selecting sunscreen.
SPF of at least 30
Water resistant
Provides broad-spectrum coverage
You should apply generously before going (it takes at least 15 minutes to absorb) into direct sun exposure and you should use at least one ounce. Now, you don't need to carry around a shot glass (I prefer their original use), this is about the amount you can hold in the palm of your hand.  Don't forget (everyone does, including me) to reapply sunscreen every 2 hours, after sweating profusely (think whore in church) or after you've gone swimming (think whore in the pool).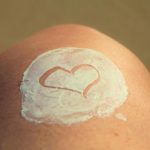 Anyone who has spent more than 10 minutes with me knows that "conventional" sunscreens are not an option for me and my family. Most of them are crap and full of toxins (the sunscreens, not my family) and they don't always work as promised. As I've said before, your skin is your largest organ (contrary to my hubby's claim) so what you put on it goes right into your body and these days we should be super-selective about what goes in your body (unless you are the aforementioned church or pool goer)
So now down to business, here's my top 5 list of chemical free sunscreens that I love (in no particular order). All these recommendations are top rated in Environmental Working Group's Guide to Sunscreens (www.ewg.org) so you're not just taking my word for it and all the sunscreens listed are cruelty free.  It's a little extra work finding some of these but like Truvy from Steel Magnolias says "It takes some effort to look like this".
Oxybenzone and paraben-free
Broad spectrum
Water and sweat resistant
Non-Nano
---
Broad spectrum
Water and sweat resistant
BPA and phthalate free tubes
Biodegradable and safe for coral reefs
PABA Free
Made in the USA
---
Oxy-Benzone Free
Non-GMO
Titanium Dioxide Free
Non-Nano
Reef Safe
Water Resistant
Made in the USA
---
Goddess Garden Everyday SPF 30
Reef Safe
Biodegradable
Non-Nano
Non-GMO
Made with plant-based ingredients and natural minerals
Organic
Water Resistant
PABA Free
Made in the USA
---
No Avobenzone, oxybenzone or UV chemical absorbers
Non-Nano
Paraben, phthalates, PABA and 1,4 dioxane free
Gluten Free
Water Resistant
https://www.aad.org/public/spot-skin-cancer/learn-about-skin-cancer/prevent/how-to-apply-sunscreen
My review of these products is based solely on my opinion. Others may have a different opinion or experience. I did not receive any compensation – I bought all these sunscreens with my own cold, hard cash.